Long Island Personals, Long Island Dating, Long Island Singles

Long Island Personals is a FREE service dedicated to Long Island and the surrounding region. All our members are local to Long Island, giving you a better chance at meeting someone special.

We have thousands of Long Island singles who are looking for fun, romance, dating and more!

Whether you are looking for a friend, lover, chat buddy, casual dating, or something more serious, you can find your LOCAL match at Long Island Personals!
<! -- Member Login End -->

Long Island Personals Featured Members

lets ride
d, 32, from Suffolk, seeking: Smart, funny, witty, adventurous, likes to experience new things, travel, loves music. is open-minded, loving, respectful and considerate. ready fo...

Italian American guy from Nassau
Tony, 47, from Nassau, seeking: I tend to like petite ladies but am not that picky. She has to be affectionate, smart, friendly personality
Featured Links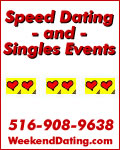 ---
Your Ad Can Be Here!
Email for details!